PCCC has connections to a variety of resources that can be beneficial in your business growth.  PCCC can help you find resources in:
Promotional Assistance
Member to member referrals
Referrals to business start up resources
Resources for business growth opportunities
Contact our office at 540-674-1991 or info@pulaskivachamber.org for your business resource needs.
Business Organizations
Pulaski has several business organizations here to help your business grow.
Pulaski County Innovation Center and Small Business Solutions - Business incubator and start up resources.
Pulaski on Main -  Business organization to support businesses within the Town of Pulaski.
PCCC offers a variety of businesses education opportunities for members.
Weekly e-newsletter's "In the Know" - This section of the weekly e-newsletter gives members  ideas on self promoting their business.  Whether it is using events to network or social media tips, these tips are ideas that any size company can use.
Lunch with Leaders - Two times a year, PCCC hosts Lunch with Leaders.  This event brings members together for a networking lunch followed by a roundtable discussion from a panelist of leaders.  This panel can be local government leaders, marketing leaders, or leaders in business resources.  Lunch with Leaders is open to members and non-members. (members receive discounted admission)
Inspiring Pulaski County Women - This quarterly event is a morning networking breakfast followed by an inspirational speaker. This event brings women in business together to network, collaborate, and inspire one another.
Empower and Engage - The Empower and Engage is a program in partnership with Pulaski County Small Business Solutions. This invitation only program pairs participants with unlikely partners to give them a different perspective on business.  Participants will learn skills in networking, work/life balance, and  community involvement. Registration is closed for 2022.  To be considered for the 2023 Empower and Engage program, email info@pulaskivachamber.org..
Connections and Community Voice
PCCC has connections to a variety of resources that can be beneficial in your business growth.  PCCC can help you find resources in:
Bridge business and government, strengthening efforts toward community goals.
Our partnerships and connections make the Chamber a leader in collaboration, referrals, networking and resource connection.
PCCC maintains close connections and partnerships with local government allowing allow us to keep our membership informed and connected with our community.
Connetions and Community Voice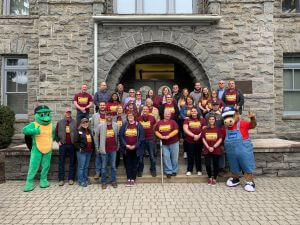 Get Involved
It has been mentioned before that word of mouth is the oldest form of business promotion. It has stood the test of time and remains the most important way to promote your business. The most effective word of mouth is done by networking. But, being involved in the community is just as important.
Being active in community organizations can also give valuable business exposure. When you serve on a board, such as your Chamber of Commerce Board of Directors or Ambassadors Club, you are networking with fellow business leaders and getting your name recognized as a leader in the community. Aside from making valuable connections, you are making a difference and bettering the community in which you live and work.
Get involved! Below is a list of Chamber committees and area nonprofits to help you get involved!